Biography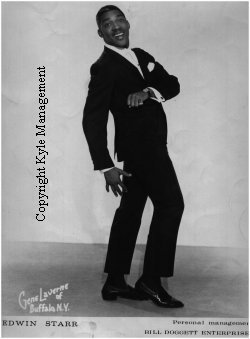 Edwin Starr was an integral part of the soul and dance floor scene since the mid-fifties and the formation of his first band The Future Tones in 1956. He was on the road right to the end.
Born Charles Edwin Hatcher on January 21st, 1942 in Nashville, Tennessee, Edwin was raised and educated in Cleveland, Ohio. In 1962, after completing two years of military service in the USA and Germany he moved to Detroit, the automobile city. By the middle of the decade he was a member of the artistes on the up-and-coming RicTic label under Ed Wingate. Together they released one immortal Northern Soul hymn after another. Songs like "Agent 00 Soul", S.O.S (Stop her On Sight)" and "Headline News" laid the foundations for Edwins' continuing world-wide fame.
Factoid
The name 'Starr' was suggested by Don Briggs, the manager of the Bill Doggett Combo with whom Edwin used to sing. On hearing Edwin's voice he told him he would be a star one day and said Edwin should use the name Star with an extra 'R'. Edwin is Edwin's real middle name.
In 1968 mogul Berry Gordy swallowed up the Ric Tic artistes and Edwin suddenly found himself on the great Motown record label. He got off to a good start with "I Am The Man For You Baby", but it was with "25 Miles" in 1969 that things really took off.
Edwin was somewhat unusual member of the Motown family, he co-wrote some of his numbers and stood out from the Motown programme with his rough soul shout. The visionary producer, Norman Whitfield (Temptations, Gladys Knight, Rose Royce) was looking for just this kind of voice. He chose Edwin to sing the re-recording of the song "War, huh, Whatizzit Good For, Absolutely Nothing" and the single marched all the way to number 1.
In the times that followed, more and more Motown artistes such as Marvin Gaye and Stevie Wonder directed their creative energy towards soul and social criticism. When Edwin parted company with Motown with the soundtrack "Hell Up In Harlem" - from which samples can be heard on Hip Hop records from Tone Loc to Ice T - the great Motown "Sound of Young America" was already drawing to a close.
Factoid The lead vocals on Edwin's track "Who Is The Leader Of The People" were originally sung by Stoney and Meat Loaf. Motown replaced the lead vocals with Edwin's as he had just had a hit with "War". The original background vocals, also done by Stoney and Meat, are still on the track, according to Meat's autobiography "To Hell and Back". A clip can be heard on the player

One year later Edwin celebrated his regained freedom with the album "Free To Be Myself" and the "Afternoon Sunshine" LP. His disco-soul stompers "Happy Radio", "(Eye to Eye)Contact" and "Get Up Whirlpool" once and for all established him with an enormous audience at the end of the seventies.
Edwin has been twice nominated for a Grammy, once with "Agent 00 Soul", and "H.A.P.P.Y Radio" is in the Hall of Fame.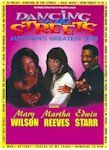 Edwin has appeared on several theatre tours, including THE RETURN OF THE GIANTS with the Four Tops and Temptations, and DANCING IN THE STREETS (first tour) with co-stars Martha Reeves and Mary Wilson.
Factoid
In the early 70s, Edwin auditioned a newly-formed Los Angeles-based group and hired them as his backup band. The group's association with Edwin led to recording sessions with the legendary Norman Whitfield which led to the group's fame as Rose Royce.
---
Timeline
(1999-2003)
May 1999 Edwin attended a Bruce Springsteen concert at Birmingham's NEC and is asked to duet Edwin's "WAR" hit with the rock superstar.
Edwin makes the pop charts with his guest appearance on the Utah Saints' single Funky Music (Sho Nuff Turns Me On)" which was of course an original Edwin Starr hit and he also guested on the Three Amigos' single "25 Miles". TV appearances include TFI Friday with Chris Evans.
March 2000 Edwin presents a three-part exploration of the link between soul music and the US civil rights movement for the BBC. The program, called "RESPECT - Soul and the Civil Rights Movement" featured Wilson Pickett, Martha Reeves, Mary Wilson, Jerry Butler and others telling how their songs played a part in calling for change in American society.
June 2001 Edwin performs at the Millenium Stadium for the Speedway Grand Prix.
Sept 2001 Edwin performs for Michael Jackson's anniversary party at the Tavern-on-the-Green in New York.
October 2001 Setting up of Edwin's web site.
November 2001 Edwin performs at the Canaries WOMAD festival The photo (right) will take you to a BBC review of the concert.
December 2001 Edwin takes part in his first Internet chat room discussion via Soul-Patrol. Fans and friends worldwide had the opportunity to send their best wishes and ask Edwin questions.
New Years Eve 2001 Edwin appears on Jules Hollands' Hootenanny on BBC2, opening the show with 25 Miles and reprising with War towards the end. Jules noted that Edwins' voice is so powerful he is the first singer on his show who did not make use of the monitors!
March 2002 Edwin works with Pop Star rejects Helen Farrar and Rachael Makins. Click here for more from the BBC.
March 2002 Edwin performs at Liza Minelli's and David Gest's wedding, without a doubt the ShowBiz wedding of the year. Edwin (a long-time friend of David's) enjoyed meeting and performing with many of his friends and peers at the wedding reception. The entertainment featured a 60-piece orchestra and other entertainers performing there included Paula Abdul, Ed Ames, Tony Bennett, Roberta Flack, Gloria Gaynor, Robert Goulet, the Pointer Sisters, Shaggy, Dionne Warwick, Billy Paul, Chuck Jackson, Ashford and Simpson, Michael McDonald, The Doobie Brothers, Michael Jackson, Freda Payne and Taj Mahal.
Joan Collins, Liz Taylor, Janet Leigh, Anthony Hopkins, Michael Douglas, and an old friend - Louis Gossett Jr. were among the hundreds of celebrities present. The whole event was closed by Edwin, who brought everyone to their feet, dancing and singing to Marvin Gaye's 'Grapevine. Edwin makes a very special mention and thanks to Joe Ma Lotti, the conductor/musical director for all of David Gest's productions. "Joe is a very, very good producer and a great guy".
April - June 2002
Edwin again joins Martha Reeves in a reprise of the Dancing In The Streets show, this time with special guest Freda Payne. An incredible 10-week stint of 50 dates around the UK.
September 10th 2002 Edwin records "Snowflake Boogie" with Jules Holland for Jules' Christmas album - the song was penned by Jules.
September 26th 2002 Edwin chats on GMTV with former Supreme Mary Wilson.
November 2nd 2002 Edwin spars with Jonathan Ross - Radio 2.
November 6th 2002 Edwin cooks Noisettine on UK Food TV.
November 22nd 2002 Edwin appears on BBC2s "Later" with Jules Holland singing "Snowflake Boogie" a song featured on Jool's album "More Friends". Edwin also sang a duet of "Drowning In My Own Tears" with Sam Moore (formerly of Sam & Dave) Listen to a preview of Edwin's "Snowflake Boogie" -
November 26th 2002 Edwin records in Pittsburgh for PBS American Soundtrack Concert Series
The concert - co-hosted by Aretha Franklin and Lou Rawls was seen by up to 400 million viewers and broadcast in March 2003.


New Years Eve 2002 Edwin sings Stop Her On Sight on Jonathan Ross.
January 20th 2003 Edwin tops Northern Soul Poll as "All-Time Favourite Artist" and "Best All-Time Live performer".
The poll - supported by leading soul mag Blues & Soul - was the result of 22,000 responses during 2002.
April 2nd 2003 Following a heart attack Edwin passes away at his Nottingham home.
Edwin's grave may be visited at the Southern Cemetary and Wilford Hill Crematorium, West Bridgford, Nottingham. The plot is H19-91, on the cemetary map it is roughly within grid refs J18 - H21.
His epitaph reads:
CHARLES EDWIN HATCHER...OUR AGENT 00 SOUL...EDWIN STARR.....KEEP THE FAITH.....ALWAYS LOVED, NEVER FORGOTTEN
---


September 29th 2003 Edwin's Tribute Concert
November 24th 2003 Edwin featured on Jules Holland's HOOTENANNY DVD

---
Personal likes
Edwin liked things that are positive.
He had a number of favourite artistes: Bruce Springsteen, Luther Vandross, Dionne Warwick, Patty Labell, Aretha Franklin, Quincy Jones & Ashford and Simpson.
His favourite song is "UNSATISFIED" by Lou Johnson - a big-voiced ballad singer who recorded for Old Hill records in the early 60s.
Blue was his favourite colour and his favourite car was a Lexus.
His most treaured possession were his dogs Sammy and Sonny.
His favourite movies were the comedies "TOPPER"(1937) starring Cary Grant and "I MARRIED A WITCH"(1942) starring Veronica Lake.
Relaxing is what Edwin liked doing most.
His favourite football team was the Green Bay Packers.
Favourite venue was the Club BlueNote in Toronto, Ontario, Canada

---