©Kyle Artist

Please take time to listen to the Team's album - 'Keeping The Faith', click cover to listen or purchase.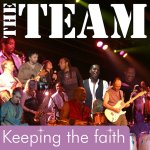 Nothing But All
Edwin Starr
This most beautiful and tender song has been remastered and is available for purchase and download for only £0.79. Buy this track from Amazon
It's amazing. This is one of the best ever songs from our Agent 00 Soul. Almost 5 minutes long too. A well worthwhile purchase for Edwin fans and simply fans of love songs. Congrats to Lilian and Colin for issuing this superb recording. You will want this track - BUY IT!!
Clean
has been remastered for 2011. Rediscover some of Edwin's prime recordings.
1. I'M SO INTO YOU
2. JEALOUS
3. CONTACT
4. STORM CLOUDS ON THE WAY
5. DON'T WASTE YOUR TIME
6. MUSIC BRINGS OUT THE BEAST IN ME
7. WORKING SONG
8. I'M SO INTO YOU (SINGLE VERSION)
9. CONTACT (SINGLE VERSION)
Buy this CD from Amazon
AN ACTOR AND A GENTLEMAN
LOUIS GOSSETT.JR.
AND PHYLLIS KARAS

EDWIN'S LIFELONG FRIEND, AWARD WINNING AFRICAN AMERICAN ACTOR LOU GOSSETT.JR. TAKES AN UNVARNISHED LOOK AT THE DAUNTING CHALLENGES AND INCREDIBLE TRIUMPHS OF HIS FIFTY-YEAR CAREER
Buy this book from Amazon
Click player start for SOS(Stop Her On Sight)
THE EDWIN STARR BAND aka The Team
with Edwin's brother
ANGELO STARR

This was recorded in November 2002.
Want THE EDWIN STARR BAND Click here?
Edwin dancetrack rediscovered
Burns Like Fire, recorded in Paris and loosely sampled around 25 miles, was laid down a short time before Edwin's death and is available on the Marathonians "A Tropical Soul Adventure".

Incredibly, the lyrics were totally ad-lib'd by Edwin - with no rehearsal!
Amazon listing

Sample Burns Like Fire
There have been visitors to this site
---
Hosted by hostbuster.co.uk
This site is best viewed with Internet Explorer
Please ensure you are always viewing the latest content, this can usually be achieved by refreshing the screen with F5
JavaScript must be enabled.

Validate css